Personalized Catering Service
Personalized Catering Service
Personalized catering service comes in many variations. Aside from big events, sometimes we have to arrange small events like a family gathering, school friends' reunion, private birthday parties, bridal showers, baby showers, memorial services, picnics and more.
Family and private events create wonderful memories filled with fun and warmth. A private event aims to bring people together to celebrate a more intimate achievement, milestone, or life event. These events have special meaning for the people who attend. Sometimes, people arrange it in their houses or backyards or even rent small venues.
Catering style can improve the experience for your guests. Usually, hosts prefer buffet style or butler passing from table to table style for this type of event. You can choose between these two, or you can go for the station, plated, self-served buffets or family-style. Based on your opinion, the timing and the theme of your party, we will present the best catering style!
We realize you do not always have time to organize the elements required to have a celebration. As the client, you have the choice to let our team design everything for you, or we can create a detailed personalized event.
Traditionally our first step is to get to know you. Let's meet for an ice breaker consultation. Devour's owner, Ron, will meet with you at your location or our home base at 580 Oley Rd. Oley, PA. 
Ron will create a food profile based on your preferences. We will work over every detail to ensure a diverse and well-rounded menu from start to finish. If you have any family recipes you would like to be a part of your event, let us know, and we would be more than willing to replicate one for you.
We can provide the entire design from conception to completion.  Our experience is vast and covers all types of occasions.
There are many different ways to serve you and your guests.  Couple as many styles you would like.
Cocktail parties can be a relaxed, fun, and socializing option. Choose a wide assortment of hot and room temperature appetizers. Our servers will pass your appetizer selection to each of your guests for the duration of your event.
We will professionally serve each meal to your guests. Starting with salad and ending with your dessert.  Unlimited courses are available. Great paired with a cocktail hour and open bar.
An elegant table display consisting of your choice of entrée, starch vegetable, salad, rolls, and butter.  Have as many of all selections as you would like.
An elegant table display consisting of your choice of entrée, starch vegetable, salad, rolls, and butter.  Have as many of all selections as you would like.
Popular Made-To-Order Station examples:
Pasta Stations
Grill Stations
Carving stations
Assorted French Fry Stations
Stir Fry Station
Hot Coco Pork Loin – Sit Down Meal
Coco crusted pork loin with smoked rosemary marshmallow fluff
Flank Steak – Sit Down Meal, Buffet or Carving Station
Tender marinated juice cut of meat
Surf & Turf – Sit Down Meal
Petite Filet & Lemon dill Lobster and Crab Lump
10 Layer Eggplant Parm Lasagna
Thinly sliced and breaded Eggplant layered with house sauce and assorted cheeses
Lemon Chicken – Sit Down Meal or Buffet
Herb and garlic roasted chicken breast with a lemon sauce
Chili Lime Salmon Topped with Mango Salsa
Juicy chicken stuffed with the freshest seasonal ingredients
Elote Style Succotash w/ Egg Noodles – Sit Down Meal or Buffet
Vegetarian option – Elote seasoned sauté with brown butter noodles
Gallery of Personalized Catering Service Menu Items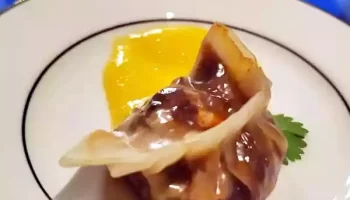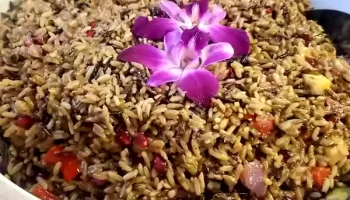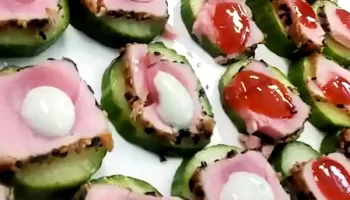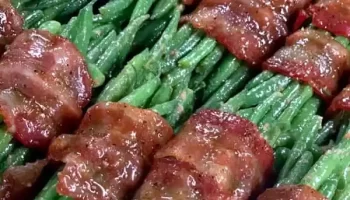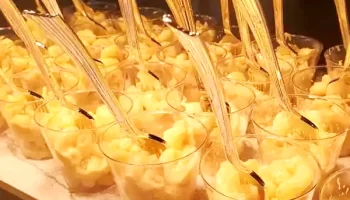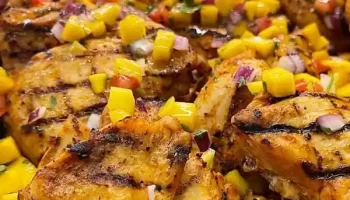 The images contained in our personalized catering service gallery present some of the items found in our menu. Pork Wonton. Wild Mushroom Rice. Tuna and Cucumber Appetizer. Candied Bacon Wrapped Green Beans. Mac-N-Cheese Shooters. Pork with Mango Salsa.
Bite size fried shell stuffed w/ Italian meats & cheese topped w/ hoagie fixin's
Crab Imperial Stuffed Bacon Wrapped Scallops
Crab Imperial Stuffed Bacon Wrapped Scallops
Mozzarella stuffed meatballs topped with slow roasted tomatoes
Fried, crispy, rich creamy risotto prepared to your liking
Thanksgiving Dinner Shooter
Shredded turkey layered with your Thanksgiving favorites
Tender broccoli bathed in brown butter and our signature seasoning
Maple Miso Glazed Carrots
Baby carrots glazed with a maple miso sauce
Candied Bacon Wrapped Green Beans
Fresh green beans wrapped in a sweet and savory candied bacon
Signature Roasted Potato Blend
Brown sugar crusted sweet potatoes & herb tossed red bliss
From oriental to spanish and every style in between
Personalized Catering Events
It doesn't matter what you are celebrating. Bringing a group of people together to spend time and make new memories is what life is all about. We all know that when people gather, food is often consumed.
With our personalized catering service, you won't feel like we have provided you with a cookie-cutter experience. You will realize this from our first consultation when we ask pointed questions to learn your flavor profile and the vision for your event.
"Food is something that connects people."
Catering is equally essential with the venue, decoration, and entertainment. Traditional or modern, daytime or nighttime, in summer or winter, any particular theme, whatever your expectation is, Devour Catering & Event Design will assist in making your vision a reality.
Catering involves more than food. Exploring menus and selecting the perfect style of presentation is essential as well. Your budget also matters when choosing the menu and the presentation style. Hiring a caterer can sometimes be pretty complicated, especially when figuring out the budget, guest count, presentation, and menu. An expert catering team can guide you in the process and make it perfect.
Our catering team has over 20 years of experience. We pride ourselves on turning an ordinary event into something spectacular, exceeding all your expectations. In turn, we've become experts at adapting to any catering style.
The catering service at your event can be a game-changer. To ensure your party runs smoothly, we do our best to provide you with the perfect menu and catering style. Suggestions from our culinary and design team based on your preference, budget, site, and the theme will help you find the most suitable menu.
The food choices are infinite, and customized menus and requests are acceptable. We let you plan your menu and catering style according to your taste and budget. Besides the main menu, we offer you delicious appetizers, desserts, and special drinks for your guests. We also have our own specially customized menu for your vegan guests.
Please book a consultation today, and let's start planning the perfect personalized catering service you can imagine.