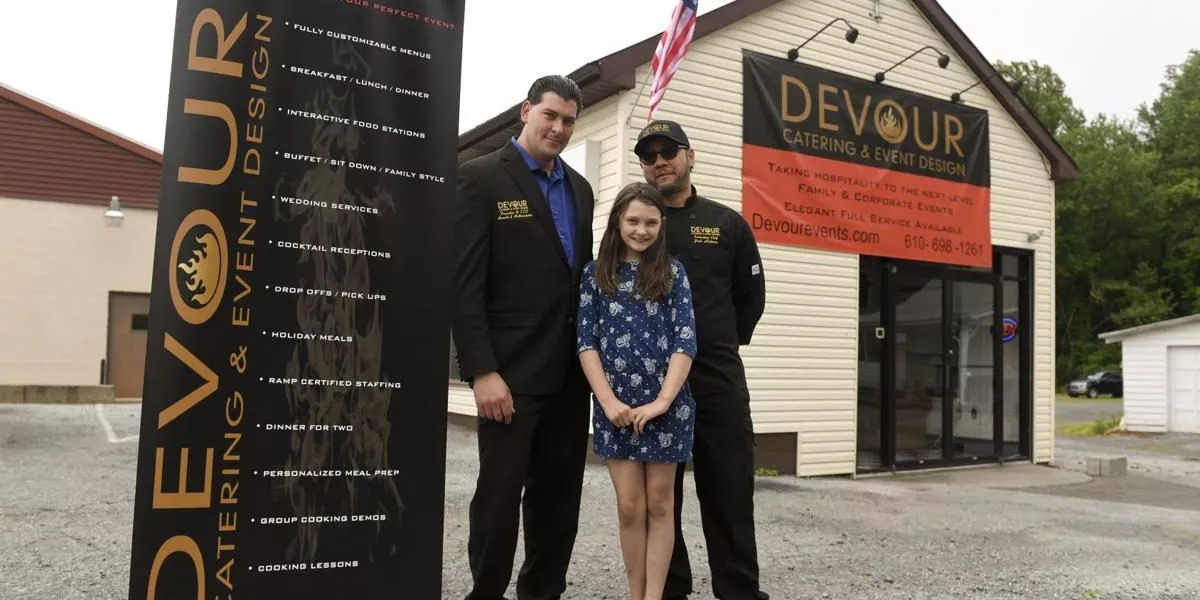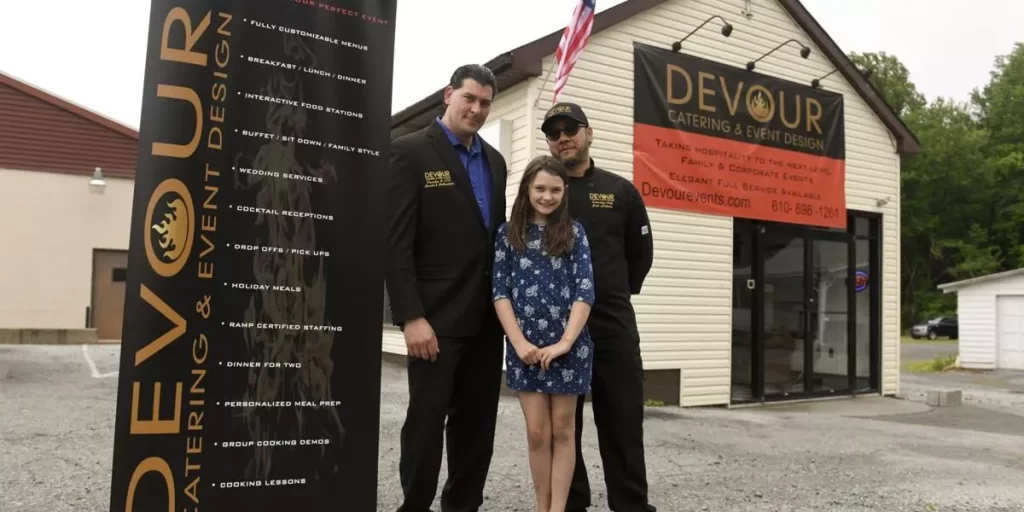 Article By Andrew Kulp akulp@readingeagle.com @KulpSays on Twitter Jun 4, 2020
Oley Township catering business, Devour Catering & Event Design, puts its own twist on takeout when Covid shut down the event industry.
Two years after getting its start working out of a shared kitchen space, Devour Catering & Event Design has a permanent home to call its own.
But with the large gatherings that traditionally fuel the catering industry largely on hold due to COVID-19, owner Ron DiBenedetto knew he needed to adapt to a changing market.
So, Devour launched a takeout menu from its new facility at 580 Oley Road in Oley Township. oley township catering
This is no ordinary takeout menu, either, consisting of both casual fare such as sandwiches and fresh cut fries, as well as items inspired by the elegant dishes Devour might serve at a special event, like the fried monte cristo sticks or a salad with signature made-from-scratch "Shazam" dressing.
"We're trying to have a balance of local fare and a little creativity," said DiBenedetto, a Reading native. "We're used to cooking high-end, so it wasn't easy."
None if which is to say Devour is gravitating away from the catering aspect of the business, with public events planned in the weeks ahead.
Rather, the existence of a takeout menu simply means diners can enjoy a catered lunch or dinner six days a week — at least for the time being.
At first glance, Devour's takeout menu might not look a whole lot different from any other establishment's.
Sure, there are some upscale items like the braised short rib with red onion marmalade, demi mushrooms and smoked risotto, or empanadas stuffed with crab Rangoon.
There are also restaurant staples such as chicken wings and loaded fries, and local favorites like chicken potpie.
Whether it's fancy or finger food though, the ingredients are made in-house rather than pre-prepared.
"What we try to focus on is homemade-from-scratch cooking," said DiBenedetto. "All of our sauces for our wings, pulled pork and prime rib elements, they're all homemade."
Ingredients are locally sourced when possible, and the menu will change based on what's fresh and seasonal.
Takeout is available from noon to 7 p.m. Tuesday through Sunday, while Devour's full catering menu is available for pick-up and delivery.
A focus on hospitality at Oley Township Catering Business
While takeout is something he's trying right now, in truth, DiBenedetto sounds far more interested in providing a personal experience than he is in simply feeding people.
"It's about the special moments in between setting down the dish, picking up the plates," said DiBenedetto.
After all, his operation is called Devour Catering & Event Planning. When you hire his team for a gig, you're not just paying for some trays of food.
It's an occasion. oley township catering
"What we are trying to do is raise the bar on hospitality," said DiBenedetto. "We want to remind people how they're supposed to be treated."
Whether for a wedding reception or a private chef's tasting in a person's home, DiBenedetto and Devour executive chef Joel Aldana prefer to spend time with the client beforehand, building a custom menu based on their favorite dishes, places to eat and other personal details.
"We have a catering menu as thick as a bible," said DiBenedetto, "but that's more or less set up for an HR director of a company who doesn't have time to sit down and create with us.
"It's about the creation, the steps it takes with a bride or groom, or a mom planning a graduation party. That's one of the most important moments in these people's lives and should be respected as such."
The hospitality industry seems to come naturally to DiBenedetto, whose career began 15 years ago as a banquet server for Konopelski Katering.
"It was my very first job," said DiBenedetto. "I had a lot of fun, so I stuck with it."
He's since worked all over Berks County, going on to become a restaurant and banquet manager for Green Valley Country Club, event coordinator for Boscov's A La Catering and was restaurant and banquet manager at the DoubleTree by Hilton hotel for three years.
It was around then DiBenedetto started to believe he could go out on his own. Devour initially rented kitchen space from Mi Casa Su Casa in Reading, but the business eventually outgrew the arrangement.
DiBenedetto credits "genuine employees" who "try to make a difference in clients' lives" for Devour's expansion.
"Something truly important to me is my successes have not just come from me," said DiBenedetto. "They've come from the team I surround myself with."
That emphasis on putting people first is what has allowed Devour to thrive.
"We'll roll out the red carpet for them, as many courses as they want," said DiBenedetto.
"At the end of the day, after a long event, it's remembering the faces and connecting them with the memory you made with them."
Where to try Devour - Oley Township Catering Business
In addition to private parties, Devour hosts or participates in a number of public events.
If you're out on the town, there's a chance you've already experienced Devour at Taste of Berks, Colebrookdale Railroad or attended one of their pop-up dinners.
And Devour has several outdoor events in the works, so guests will have a chance to go out to eat and socially distance at the same.
On June 17, Devour will host a wellness dinner at its Oley location in collaboration with West Reading-based trainer and nutritionist Chris Kantner of Ckaos TNT. Using Kantner's expertise, DiBenedetto's team will prepare and demonstrate how to make great meals with healthy, fresh ingredients.
Devour also expects to take part in an upcoming food truck festival on Fridays and Saturdays at Willow Glen Flea Market.
"We want to provide a social-distance safe environment for people to come out, get back in civilization and get fresh food while standing six feet from each other," said DiBenedetto.
As for the takeout menu at Devour Catering & Event Design, you may want to get it while it's hot. Although DiBenedetto intends to continue serving the adjacent bingo hall and auction house in Oley once those reopen, he described the takeout business as "slightly temporary" during the pandemic.
Contact us to Devour your event.